野田暉行-作曲家- Teruyuki Noda ‐Composer‐ SITE TN
---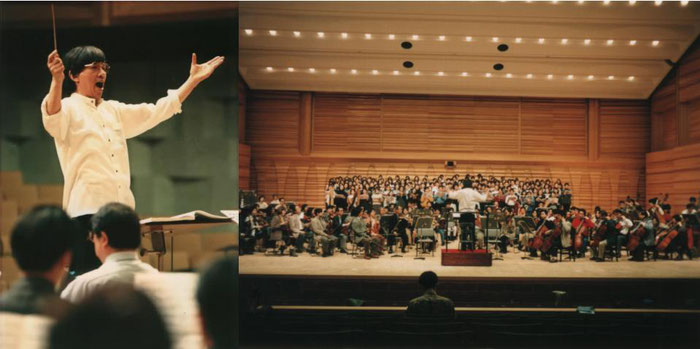 左側写真©木之下 晃 氏撮影 Photo (left side) by Akira Kionshita 右側写真 奏楽堂 (開眼会初演)  1998 SOGAKUDO opennning concert
※写真の無断コピーは禁じられております
---
We'll inform and add each time.
Update Contents  
※PC: Menu (Left)
※Smartphone: Menu (Upper Left)
Logo: Back to Top Page
---
【長きにわたりご厚情を賜り、ありがとうございました】
2022年9月18日に、父 野田暉行が永眠いたしました。
父が生前愛用の五線紙と鉛筆達を9月21日、喪主の香代子(妻)より棺へ納めました。
2010年より父と共に当サイトを更新して参りましたが、父が生前に書き溜めた「思い出の中に」の文章群を載せ終えた時が、自身の声の発信の最後となります。
作曲者へ直接のお問い合わせはもう出来ませんが、今後ともよろしくお願いいたします。
2022.9.25 野田 瑛里子
◆11月26日(土)新作初演「ピアノソナタ」が演奏されました 【Program Note】
亡くなる13時間ほど前、既に完成したこの作品の音の最善性を脳内で確認をする父の姿を見、亡くなる瞬間まで看取りました。
最期まで作曲家であり、この作品が完成作品としての最後の最新遺作となります。
ピアノ演奏: 岡田博美
東京文化会館小ホール(18:15開場)19時開演
2022.11.27  野田 瑛里子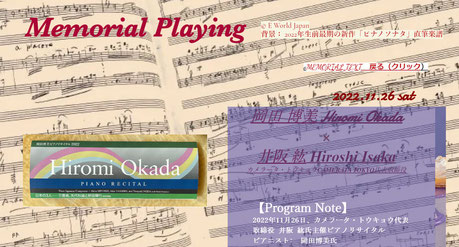 ---
【Thank you for your kindness over the years】
On September 18th, 2022, my father Teruyuki Noda passed away.
On September 21st, his wife, Kayoko, who was the chief mourner,
placed his favorite music paper and pencils in his coffin.
I have been updating this site with my father since 2010.
When I finish posting the sentences "In Memories" that he had written before his death,
it will be his last voice.
I can no longer contact the composer directly,
but I would appreciate your continued support.
On September 25th, 2022
ERIKO NODA
He was a composer until the end of his life, and "Piano Sonata" is his last and most recent posthumous work.
About 13 hours before my father passed away, I confirmed my father's stance in pursuit of the best of this already completed work.
---
---
---
〈野田暉行 公式サイト〉
 当サイトは作曲家 野田暉行の公式ホームページです。
作曲者の活動やお知らせ等を随時アップして参ります。
作曲者へのお問い合わせ等、サイト管理者を通じてご返信しております。
GDPR法の対象者で閲覧される場合は、こちらは日本のサイトです。
GDPR法の元、同意をされてからご覧下さい。
当サイトは個人情報の収集・分析はしておりません。
Cookieの使用について、削除方法を示しております。
FacebookやTwitterなどのSNSはしておりません。
2018年5月24日
サイト運営管理 E World Japan
     〈We are Japan web site.〉                  
    Our site informs the activity of the composer Teruyuki Noda.   
The question to the composer is replied through a website master.  
We don't collect and analyze your personal information.
You can also at any time delete cookies that have been enabled again.
We don't use SNS.
If you are the person who is targeted for GDPR, please notice that these are in Japan.
If you agree under GDPR, please enter.
May 24th, 2018/24th May 2018
【はじめに】
当サイトにおいて扱われるプライバシーポリシーを以下に記します。
当サイトに関わるすべての個人情報は、漏洩防止をはじめ徹底した保護管理下により扱われます。
ただし、ユーザの誤操作およびリンク先の情報管理については責任を負いかねます。
当サイトの情報は、一定の保管期間を経た後削除されます。
また予告なしに変更、あるいは、運営を中断又は中止することがあります。
それによって生じる損害には責任を負いません。
【First】
We write below down a privacy policy handled in our site.
It is thorough including prevention of leak, and all personal information about our site is handled under protection management more.
But we can't take responsibility for the erroneous operation of the user and the linked information management.
After having passed through a constant safekeeping period, the information of our site is deleted.
In addition, we stop a change or administration without a notice or may cancel it.
We don't take responsibility for this damage.
【Cookieの運営管理】
当サイトは、2021年よりCookie を使用しておりません。
【Administration and deletion of cookies】
We have not used cookies since 2021.
You can set your web browser in such a way that cookies are generally prevented from being saved to your device and/or that you are asked each time whether you are in agreement with cookies being enabled.
You can also at any time delete cookies that have been enabled again.